TechNet Conference Touches on Military-Industry Partnerships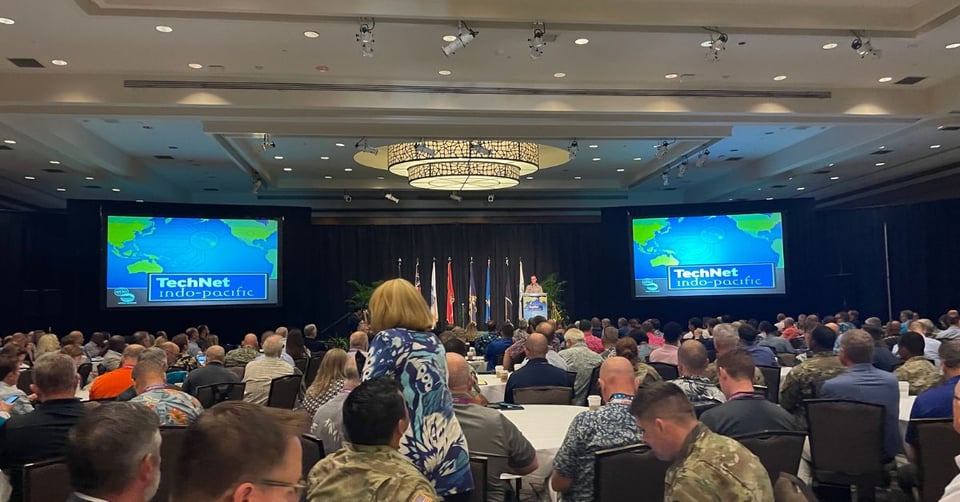 TechNet Indo-Pacific is the largest event of its kind in the Indo-Pacific Rim, focused on the regional issues military leaders have identified, including full-spectrum cyber operations as adversaries leverage cyberspace to conduct operations below the threshold of conflict.
Now in its 36th year, co-sponsored by AFCEA International and AFCEA Hawaii, the conference provided an important opportunity for Fortress team members to meet with government and industry partners.
"Fortress is here this week to engage with industry partners, talk with commercial and government clients about the region and the vulnerabilities specific to it, as well as the importance of partnerships in data security, data risk management solutions, and securing the supply chain," said Andrea Schaumann, Fortress director of federal programs and partnerships.
TechNet's Solutions for Supply Chain Security
The three-day conference featured speakers and discussions about the area's challenges and how industry and government can collaborate. Exhibitors demonstrated solutions and services that meet the military services' requirements.
A central theme in that conversation was the need for strong partnerships between the military and industry — especially when it comes to securing the cyber supply chain for critical technologies and national security capability.
"There's nothing that underscores the need for cross-collaboration and partnerships like a region with specific and unique vulnerabilities," Schaumann said.
There are a lot of challenges unique to the Indo-Pacific. There's a large amount of data and personnel in the region, yet it's geographically isolated from its partners. It's vulnerable to the effects of climate change in a way that other areas of the world aren't. And it's potentially more vulnerable due to its proximity to known adversaries.
"This conference is an opportunity for the participants in this region to be able to leverage what commercial entities are doing and what folks on the mainland are doing that they can then apply to the unique situations here," said Schaumann.
How Collaboration Secures More Data
The need for strong working relationships and collaboration was underscored by keynote speaker Adm. Sam Paparo, Commander U.S. Pacific Fleet. Paparo told the audience, "The explosion in innovation in information technology has, to some extent, thrown the paradigm of defense leading innovation on its head."
He went on to tell the audience that the success of each entity relied on the other and their ability to collaborate through formal and informal partnerships.
"You are indispensable in our ability to fight and win the conflicts on the horizon — industry leads our innovation today," Paparo said.
In addition to partnerships, the scope and growing complexity of the threat facing the United States and its allies was a central theme.
"The entirety of the problem set is so massive, and our adversaries are only continuing to increase capability and accelerating the time in which they could decide to achieve their objectives by force," Indo-Pacific Command Chief of Staff Major Gen. Paul Rudd, USA, told the audience.
Rudd and other speakers were vocal about the growing cyber threat from China, Russia and Iran and the consequences for the military and industry alike.
"We need integrated deterrence in this theater, and that means partnership with industry," Rudd said.
Today's flattened supply chain provides economic and technological benefits. Still, it can also result in a disconcerting lack of visibility as agencies and programs seek to protect data, intellectual property, and systems to maintain national security. The result is an increased vulnerability to intrusions, hacks, and more sophisticated cyberattacks — putting information, operations, critical infrastructure, and the organization's mission at risk.
Fortress Information Security leaders have warned for years that the cyber war to protect information and intellectual property is already underway. It's not a matter of if you are vulnerable, it's to what degree.
Military and industry leaders echoed these concerns at TechNet, telling the audience the fight for security and prosperity will be about data and trade secrets long before it's about islands and airspace.
"The distribution of data in this region puts it at risk from not just the adversarial threat, but also the environmental threat. There's a complexity there that is unique to this area," said Schaumann. "What Fortress can do is evaluate each of those complex pieces and then coalesce the data into operationalized data to provide end users the ability to make fast and accurate decisions."
How Fortress Can Help Secure Supply Chains
Fortress specializes in critical infrastructure-heavy sectors, like electric power utilities, oil and gas, government, industrial automation, healthcare, transportation, and more. Fortress has partnered with over 40 critical infrastructure asset owners to form the Asset to Vendor Library (A2V), a collaborative exchange of critical infrastructure stakeholders that share supply chain cybersecurity and compliance assessment, risk and intelligence data to secure critical infrastructure.