CRITICAL INFRASTRUCTURE. SECURED.
Fortress Government Solutions
Cyber Risk Management Tools and Services for the Cyber Supply Chain that Our National Security Depends On



Gain an Upper Hand on Cybersecurity Battles
The cyber war to protect information and intellectual property is already underway. It's not a matter of if you are vulnerable — it's to what degree. The fight for security and prosperity will be about data and trade secrets long before it's about islands and airspace.
Today's flattened supply chain provides economic and technology benefits, but it can also result in a disconcerting lack of visibility as agencies and programs seek to protect data, intellectual property, and systems to maintain national security. The result is an increased vulnerability to intrusions, hacks, and more sophisticated cyberattacks — putting information, operations, critical infrastructure, and the organization's mission at risk.
At the same time, critical vendors and/or suppliers are entrusted with keeping government data secure. The nation depends on these products and services for national security and prosperity.
As an asset owner or supplier, do you have a good understanding of who your third-party vendors are or how you are protecting national security information?
Get to the left of theft—by knowing where you and your supply chain are vulnerable to disruption and attack. At Fortress our job is to protect fighting vehicles, frigates and fighters long before the shooting ever starts.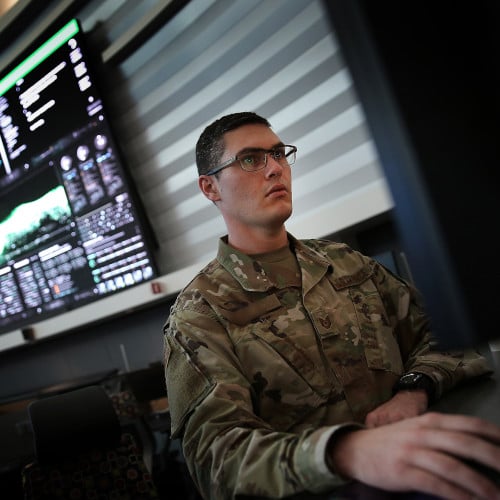 Image Source: DoD
We work to help ensure that the technology supply chain that supports our nation's security isn't compromised.
Fortress provides cyber risk management and data solutions for essential supply chains and critical infrastructure including services for vendor risk management, asset risk management, product security, and more to support overall zero-trust supply chain cybersecurity and integrity. Fortress software is integrated into a customizable platform to manage OT, IT and third-party technology threats in a single end-to-end solution.
Why Government Agencies Can Rely on Fortress
Government and industry are working together to institute thoughtful and actionable frameworks that yield traceable and enforceable best practices for cyber risk management. Guidance such as DODI 5000.90, NDAA Section 889 parts (a) & (b), and the recent executive order focused on national security highlight the magnitude of risk and the need for a broad but agile solution.
Purpose-built solutions for automating risk identification and remediation at scale are crucial to maintaining an agile cyber supply chain risk strategy.
Become proactive with your cybersecurity
Manage second-, third-, and fourth-tier vendors in your supply chain
Continuous monitoring and a holistic view of your cyber supply chain risk at all times
Refine processes for mitigating risk internally with the vendor, accepting the risk, or validating evidence of remediation after the fact.
Fortress Security Benefits for Government Agencies
Create a Vendor Inventory
With an all-in-one solution, you can better manage your IT and OT ecosystems and critical infrastructure–helping you stay ahead of potential problems or intrusion.
Get a Holistic View of Risk
Connect disparate sources of information to better understand emerging cyber risks and determine the business impact.
Ensure Regulatory Compliance
Monitor expert analyst assessments to rapidly gain actionable insights and recommendations for combating new threats.
Fortress Security Benefits for Government Suppliers & Vendors
Speeds Up Sales Cycle
Validate compliance with regulatory controls, demonstrating proactive due diligence.
Efficiency Between Government and Vendor
Ensures compliance with a regulatory environment that could otherwise lead to fines or cancellation.
Multi-Agency Solution & Resource Library
Work with multiple agencies in the government because Fortress helps ensure regulatory compliance
Does Your Organization work with Government Agencies?
A2V Library Provides Security Assessments for 40K+ Vendors
The Fortress A2V Library is a community for information sharing and collaboration, where nearly 50,000 suppliers and services connect with clients and potential clients. Becoming a user of the A2V Library will help you demonstrate a strong commitment to security and compliance and place you in front of your target audience.
Speak with a Cybersecurity Expert
When you speak with a security expert, you'll gain knowledge into how the Fortress platform facilitates:
Understanding of how the technology fits into your cyber environment and how data is ingested and managed.

Creating an inventory of vendors and understanding what type of info you're sharing with them.

Discovering, prioritizing, and monitoring third-party supply chain cyber risks

Building a security profile that meets regulatory requirements.

Managing Information for multiple agencies within a single platform.

Accelerating government purchases with the validation of assets and software before the government contracting process.