Powering Vendor Risk Management: Fortress Platform's Approach to Audit Preparedness

Rob Anonen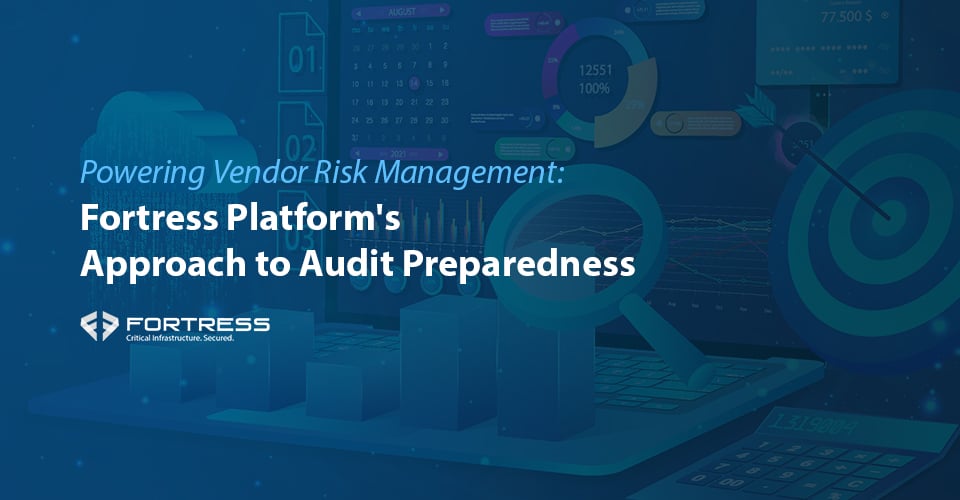 At Fortress, we understand the challenges that come with audits. These are often labor-intensive, time-consuming processes, typically riddled with uncertainty. However, with the right preparation and tools, an audit can be less daunting and more streamlined.
With this in mind, we've designed the Fortress Platform to meet all of your TPRM and C-SCRM needs. One of the core features is to simplify and automate your audit preparation process, enabling you to manage vendor risk more efficiently and effectively. Our goal is to transform audits from potential headaches into smoother operations.
Let's dive into how the Fortress Platform can make this possible.
Intuitive Vendor Intake
The Fortress Platform's vendor intake process captures essential information about your vendors and automatically ranks them by risk level. This feature helps in determining the appropriate assessment type for each vendor, whether it requires a full North American Transmission Forum (NATF) questionnaire or one of Fortress's data-driven assessments. This automated prioritization not only saves you valuable time but also ensures a customized approach for each vendor.
Direct Vendor Assessments
Assessments constitute a crucial part of any audit. The Fortress Platform allows you to dispatch these assessments directly to vendors through a secure Vendor Portal, with responses returning directly back to the Fortress Platform. Vendors can then complete these assessments at their convenience. This process reduces the need for manual intervention, thereby streamlining the overall assessment procedure.
Automated Assessment Reviews
The Fortress Platform's intelligent design can be configured to automatically review vendor responses. It identifies responses that do not meet your specific requirements and generates findings accordingly. This automation reduces the need for manual reviews, boosting accuracy and efficiency.
Efficient Remediation
Remediation is possible directly through the Vendor Portal with the Fortress Platform. This feature facilitates communication with vendors and allows you to address any findings promptly. You can ask follow-up questions when necessary and monitor the vendor's progress and responses in real time, ensuring a dynamic and transparent assessment process.
Audit-Ready Evidence Packages
Documentation is essential in audits. That's why the Fortress Platform automatically generates evidence packages in line with audit activities, such as those required by the NERC Evidence Request Tool (ERT). These ready-to-use packages can save you countless hours during audit preparation and ensure that you have all the necessary evidence readily available at your fingertips.
In the words of our Director of Sales Engineering, Rob Anonen, "Preparation is the key to a successful audit. But who says preparation has to be tedious and time-consuming?"
With the Fortress Platform, Fortress is paving the way in automating and simplifying the TPRM and C-SCRM processes. Audits can be overwhelming, but with the right tools and support, you'll be well-prepared for your next audit. The Fortress Platform enables your team to focus on what truly matters - securing your supply chain and managing risk effectively.
Please feel free to reach out if you have any questions about how the Fortress Platform can help streamline your vendor risk management and audit processes.