Orchestrate Strategic Processes and Continuously Monitor for Threats
Identify, manage, and remediate third-party cyber risk.
Manage the complete lifecycle of third-party cyber risk.
Fortress Platform makes it possible to orchestrate strategic processes and continuously monitor a wide variety of threats to identify weaknesses in your technology footprint.
Most organizations want a single system that is able to ingest vendors and products associated with all assets and systems. Fortress Platform provides that vehicle with up to unlimited vendor licensing, compliance modules, security & compliance ratings, automated findings lifecycle management, and the ability to view critical supplier security information stored in our A2V Library.
Unify risk data across your entire technology ecosystem.
Ingest existing system information, including:
Application Management

Asset Management

Vulnerability Management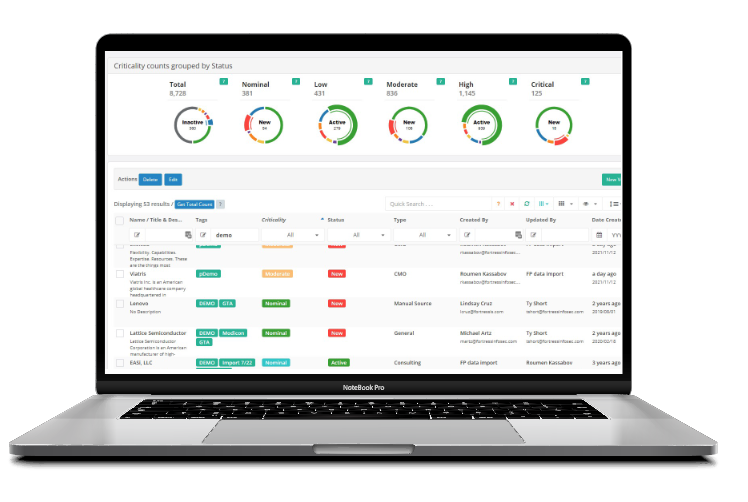 Procurement & Contracting

Ticketing

Accounting
We help our clients to build a foundation for stronger supply chain risk practices and improve their overall security posture.
Manage risk, automate regulatory compliance, and reduce costs with a supply chain central library.
Fortress Platform can interface with the Fortress Supplier Security Exchange to provide real-time risk intelligence on third-party products and services. Members can view a central data repository with a real-time data catalog to see supplier certifications, assessments, product bill of materials, cyber hygiene, breach alerts, M&A alerts, potential compliance alerts, and validated product and vendor risk assessments.